Based in Chennai, Tamil Nadu, Die Mech Engineers is a well-reputed Manufacturer and Supplier of Industrial components, fixtures and machines. The company started as a manufacturer of Brake Lining Moulds and diversified into making of Jig, Fixtures, Press Tools and Moulds. The company is working under the strong vision and motivation of its CEO, Mr. T. Rajesh. His able guidance and sharp business acumen have helped in the company's progress and development. The company is successfully catering to the needs of the clients since 1991.
Membership :
The company enjoys membership in the following associations, which speaks volume about the company's credibility :
Tamil Nadu Small Industries Development Corporation (SIDCO)
National Small Industries Corporation (NSIC)
Department of Industries & Commerce (SSI)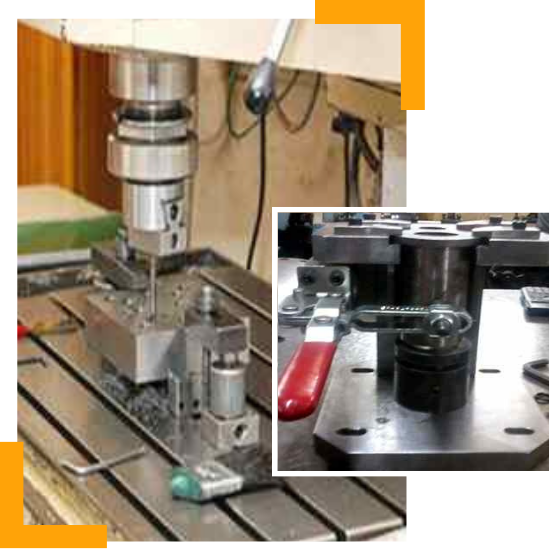 Infrastructure :
We have a highly sophisticated manufacturing unit that helps in assuring smooth and flawless
production process.Our manufacturing unit is well-equipped with
following machinery:
BFW CNC Milling M/C- (Size:750mm x 400mmX400mm)
WMW Jig Borer 450X250X350
Milling/Boring M/C (M1TR MODEL) with DRO attached 3Nos
Heavy Duty Milling M/C (Size: 900mm x 250mm) Batliboi
Surface Grinding M/C (Size:9" x 18") 3Nos.
Lathe M/C (Size:7feet)
Radial Drilling M/C (Size:1")
Bench Grinder
Pneumatic Die Grinder
CMM 600 X 500 X 400
Apart from the above, we have following measuring instruments for accurate manufacturing of the products :
Vernier Calipers (0 to 600mm)
Micrometers (0-25mm, 25-50mm, 50-75mm, 75-100mm,150 up to 500)
Bore Indicator (0-18mm, 18-32mm, 32-60mm)
Vernier Height Gauge (600mm)
Surface Table (750mm square)
Slip Gauges
Dial Vernier (0-250mm), Digital Verniers, Digital Micrometers
Team:
We are backed by a highly proficient team that acts as our loyal backbone. Our engineering team consists of design facility with licensed solid works, 3D software, manufacturing facility with down the line machine shop supervisors, Quality inspectors, Fitters and machinists. Our well-coordinated team caters to critical and specific customer requirements.